November 18th, 2019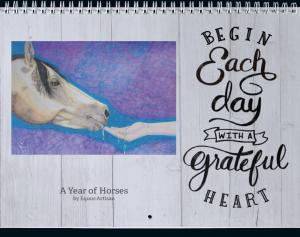 Off and on for the past three weeks I've been sick. I get well only to fall victim to the next illness. Been missing work and my therapeutic riding lessons. Well staying home is the worst. I keep thinking about all the work I have to make up.
Well I came up with an idea to take some of my drawings and make a calendar out of them. I posted on my facebook page and it is beginning to sell. Who would have thought?
November 4th, 2019
My inspiration for this drawing was from a story I heard from my friend, Vera. Vera was trail riding. It was summer and hot and humid out. She had been riding for over an hour or two when she stopped by a lake to cool down. She dismounted and headed straight to the lake. She dipped her hands into the lake and offered her horse water to drink from her hand. Before she took a drink. When one has such a strong bond with their horse it's magical.

A horse is more than just a pet, it is a friend, teacher, and healer. Maybe it's the horse's social nature he thinks of you as part of his herd. Just the two of you when you're together. When he sees you from the pasture he trots over to you, when you're busy in the barn he watches you, you know what that means? He trusts you. He feels safe with you. You are part of his herd. If a horse trusts you you are on your way to a wonderful relationship with your horse. A partnership starts.

I have a horse at the stables that I have a good bond with, his name is Petey. He's a 24-year-old thoroughbred that never raced. When I work with this horse it is a wonderful experience. I swear he can read my mind! Sometimes I have no words to express what it's like to experience the bond or the magic as I call it. Has that ever happened to you and your horse?
November 4th, 2019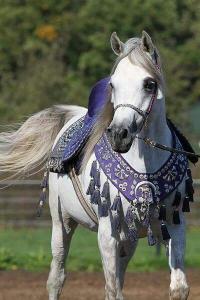 I have always been intrigued by this breed. One of the oldest and most recognizable horse breeds in the world. The purebred Arabian horse feature characteristics are its finely chiseled head, dished face, long arching neck, large nostrils, and high tail carriage. The horse's entire appearance exudes energy, intelligence, courage, and nobility. Arabian horses have a famous "floating trot". The Arabian horse originated among the desert tribes of the Arabian Peninsula, bred by the Bedouins for its endurance and prowess as a war mount.

Living in the desert the breed developed adaptations such as thin-skin, tails held high when in motion, both traits that help cool the body. Arabian horses have strong hooves that helped them withstand the sand and rocks of the desert. Arabians may appear delicate in appearance, but they are actually strong, with dense bones and short backs. Their extraordinary stamina is perhaps the most important physical characteristic of the breed. Their well-sprung ribs, large flexible nostrils, and unique attachment of the neck to the head all allow for tremendous lung capacity. Because of these valuable adaptations, the Arabian horse can travel long distances at high speed.

The Arabian horse is highly valued and to own one is of great status and wealth. The breed is also known for its intelligence, courage, loyalty and spirited yet gentle disposition. The Arabian breed has an amazing affinity for humans. For centuries the Bedouin treated their horses as members of the family. The foals were raised with their children, the mares sought shelter in their tents. They were highly prized and required constant guard against being stolen. Over time this became a genetic characteristic of the breed and one of its most endearing traits. Arabian horses bond strongly with their humans and have a strong desire to please. They actively seek affection and return it in kind.

Upon further exploration of the breed, I did some research, because of my curiosity, as to why the native peoples "decorate" their horse tack, use of drapes, tassels, and fancy saddles. If you are a horse person you will appreciate the whys. Well, what I found out is that it is theorized that the heavy tassels attached to the bridle exerted pressure on the reins and the horse's poll (the area of the neck behind the ears where the headstall rested). This pressure would encourage the horse to lower its head and flex the neck. This could be particularly valuable when shooting arrows from the horse's back, as was common. It also freed the rider's hands for handling weapons such as the bow, sword, and lance. The continued pressure on the reins would maintain a level of control over the horse's speed and direction while the reins were dropped.

The tassel or collar is actually attached to the reins. Two later examples allude to the tasseled collar's use. A 19th century print of a mounted Mamluk shows a cloth rein attached to the headstall of his horse's bridle, which passes down through a ring at the end of the collar and is tied off to the front of the saddle. In this instance, it could be functioning as a martingale of the "tie-down" type which prevents the horse from an exaggerated elevation of the head.

Whatever its original intended purpose, with time the tasseled neck strap or collar seems to have taken on a more decorative use. As some later examples show, the collar was fitted with longer and more elaborate tassels, some made of horsehair or animal tails such as those from leopards. Other later versions the collar itself became more ornamented, often embossed with gold and other precious metals. One example is covered entirely in gold encrusted with precious gems.


The picture came from Pinterest.
November 3rd, 2019
In the piece I drew titled Horsehead Study, the horse's expression is what makes this drawing special to me. It is almost like you can feel him staring right into your soul. Horses communicate with each other in the herd by mostly body language. The body language of a horse is unique to the equines. The horse is a highly social animal, the horse communicates its emotions and intentions to its herd mates through both vocalization and body language. A person handling horses needs to be able to read the horse's body language to be an effective trainer, handler, and rider. Horses know their place in the herd. Communication is subtle but horses can also convey information through vocal sounds, like whinnies, nickers, snorts, and blows, as well as hoof noises, like pawing and stomping.
I like to watch our horses, at the stable I work at, communicate with one another. Sometimes I see negative interactions like squeals, bite threats, kick threats, pinned ears, and rolling eyes. In extreme cases, threats can lead to actual kicks and bites.
Horses are good at letting us know exactly how they are feeling; the only problem is most people don't know how to speak "horse".
November 3rd, 2019
I kinda found this horse by accident and became enamored with this horse breed the Akhal-Teke. I thought to myself I have to draw this! This majestic horse is characterized by a long neck that tapers up to its head, narrow chest, long and lean body, shiny almost metallic coat, well-defined muscles, and known for their speed and endurance. They are an ancient breed even older than Arabian horses. They were bred for more than 3,000 years, making them one of the oldest horse breeds known. It is a true desert horse noted for its extreme stamina and hardiness. This is probably the best-known feature of the breed and its most unique. The hair of Akhal-Teke is so fine and silky that it gives a special metallic sheen.
The Akhal-Teke is the national emblem of Turkmenistan, where the breed originated. The Akhal-Teke comes from a country where food and water are scarce. The breed naturally developed to survive in these conditions, making them an incredible endurance horse. The fact that the breed is their national emblem, the Turkmens take great pride in their Akhal-Tekes. This includes decorating them with lavish tack and drapings that are highly-prized and made of gold, silver, bronze and precious stones.
I had a lot of fun drawing this breed.

October 14th, 2019
When someone looses their horse to colic, old age, or an accident, its devastating. They have lost their best friend and a piece of their soul as well. There are no words to convey one's grief.
I remember when the beloved horse at our stable passed away. Her name was Jackie and she was 28 years old. She belonged to Diane the owner of the barn. Jackie died in her sleep. Our barn manager found her laying in the pasture. Sometime later the truck came to get Jackie. I was in the barn. I couldn't stand seeing Jackie loaded into the truck. Sitting in the barn, I noticed the horses in the pastures were dead still, the horses in the barn were restless. As the truck went past the pastures the horses, whinnied and something that sounded like screaming. It was like they were expressing their grief and saying good-bye to their beloved friend. When the truck passed the stable the horses did the same as horses in the pasture. It was the most powerful experience I've ever had being with horses. The horses in the pasture were frozen in place watching the truck leave the grounds. After that everything was eerily quiet.
Shortly after writing this entry I came across this article.
https://www.jumblejoy.com/group-of-wild-horses-line-up-to-pay-final-respects-to-dying-mare
This experience has inspired me to make a drawing. Any horse owner will tell you that the death of a horse is like losing a part of your soul. This drawing illustrates the death of a horse by natural causes. The horse is laying on the ground as if asleep. Above the horse is his spirit entering into a horse heaven. He is greeted by a horse, to the left, welcoming him home. https://fineartamerica.com/featured/the-journey-home-equus-artisan.html The drawing is available for sale as prints, mugs, t,-shirts, etc.
September 30th, 2019
Why buy handmade?

Do you support your local artisians? Those talented people who create everything from creative baked goods to furniture to paintings and everything inbetween. Why are you supporting artisians? Well, it's important to support artists because what they create is unique and not massed produced. Some artists offer customization of the unique items they create. The price you pay is for what you see. The genuine article. Money is generated, taxes are paid, and the artisans can make a living.
I recently attended a weekend conference with classes that related to therapeutic riding. There were all kinds of items that were donated for a slient auction. There were horse bridles, horse themed jewery, greeting cards, horse t-shirts, etc.
In a corner was an older woman with her pottery for sale. Her name is Amy Romaniec. She created horses that were made as ornaments. Which is pictured above. Each lovingly carved and glazed. I spoke with her. Asking about her work. She showed me pictures on her phone of her kiln, works in progress, and she also spoke of how she made certain pieces and the commissions she was working on. She was so friendly and a warm type of person. I showed her pictures of my drawings, she was impressed and gave me some ideas on how to advertise myself. Talking with her has inspired me.
If you really think about it, each piece of art is unique like each person in the world. Some corporations try to create a product that has a handmade feel to it but it doesn't come close to the real feel of something handcrafted by a real artisan. Something that was born in the imagination and carried through to the physical world.
When we purchase handmade we are help keep these traditional artisan skills alive. While also creating a demand for education for these skills. It helps keep these skills alive as well as a cultureral identity.
Each handmade item is about people and not machines. It's about the time and effort that goes into each piece of art. It is also about the artisan's skill, techincal skills, the artisan's imagination, the unique treasure and not a throwaway machine made item.

*I have added Amy's link to the photo of her piece above.
September 19th, 2019
I was making a new drawing and was using a lot of reference materials, pictures of landscapes, horses and a sky at sunset. I was working out the details of my sketch and my husband saw me drawing upside down. He asked me why I was drawing like that. Here is my answer.
Well, when I'm drawing every now and then I'll turn the sketch upside down. I do this because if I am struggling with something in the drawing that doesnt look right. I turn it upside down. Then I can usually see immediately the errors I made and can fix them accordingly. It gives you a different view point from the one you've been staring at for hours. I guess it's the same principal as holding your drawing up to a mirror.
September 17th, 2019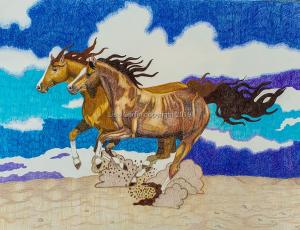 Did you know that working with horses helps build leadership skills? A horse is a prey animal. They are also looking for leadership from their humans but if they don't believe you are being a good leader they'll take over as a means of self-preservation. The best way to work with a horse, is through a partnership, a balance of give and take. To fully understand this partnership requires us to experience the horse-human relationship from a completely different perspective. A horse has to accept that you are a safe and reliable leader. Horses provide a clear mirror in which we can see how our interpersonal and leadership skills affect our environment. A heavy handed leader can quickly translate to a resistant horse exhibiting what we interpret as "misbehaviors." An unsure leader can produce a horse that seizes control of the leadership role. What kind of leader are you?
September 3rd, 2019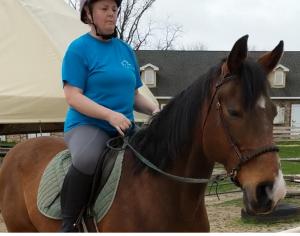 I've always loved horses. They are graceful, nobel, wise and can run like the wind. I remember when I was in elementary school I always drew horses. To me they were beautiful, magical creatures. I had quite a collection of posters, t-shirts, plastic horse models and I had a ton of books on horses, anything with a horse on it was put in my collection. I never out grew my love for horses. As an adult I work with horses and ride them. My childhood dream fulfilled. Did you love horses to?
August 26th, 2019
My favorite color. Actually, I love them all! You can almost feel his silky mane and tail blowing in the wind as he prances along. Horsey facts: The buckskin color is characterized by a cream-colored body with black points, such as the tail, mane, tips of ears, and legs. This color combination can be on any breed in a variety of cream to tan skin and sometimes with dapples. ( I won't bore you with whys and the hows of coat colors unless you want me to. Leave a request in the comments.) A famous buckskin was a horse named Buttermilk and belonged to Dale Evans!

This image of the buckskin draft I got from Pinterest. Link enclosed.
August 25th, 2019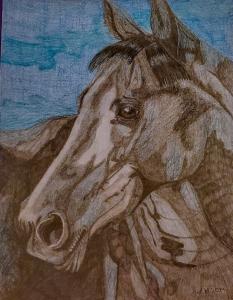 My Father-In-Law, Arthur was an old horseman. At 88 years of age, he was witty and funny. He'd tell me stories about him growing up on a farm in Pennsylvania, and how his mother took care of the neighbors horses. She taught him how to ride at a young age. He rode in a western saddle, and would tell me all about his boyhood adventures on horseback. He'd often ask me how I was doing in my riding. He'd always smile when I told him of my latest challenges. Arthur passed on in his sleep peacefully. I miss you. So this horse is drawn in your memory. I'm thinking of calling it, A horse for Arthur.

As I worked on the drawing, I remembered the stories Arthur would tell me. A black horse kept popping up in my mind. I wanted it to be special. I love pencil sketching and the black, and grays it makes. I put in some colored pencil to make it special. The picture dosen't do it justice. The blue is more vivid. Look for it in the shop coming soon.