August 26th, 2019
My favorite color. Actually, I love them all! You can almost feel his silky mane and tail blowing in the wind as he prances along. Horsey facts: The buckskin color is characterized by a cream-colored body with black points, such as the tail, mane, tips of ears, and legs. This color combination can be on any breed in a variety of cream to tan skin and sometimes with dapples. ( I won't bore you with whys and the hows of coat colors unless you want me to. Leave a request in the comments.) A famous buckskin was a horse named Buttermilk and belonged to Dale Evans!

This image of the buckskin draft I got from Pinterest. Link enclosed.
August 25th, 2019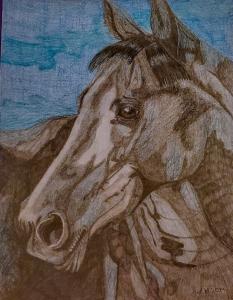 My Father-In-Law, Arthur was an old horseman. At 88 years of age, he was witty and funny. He'd tell me stories about him growing up on a farm in Pennsylvania, and how his mother took care of the neighbors horses. She taught him how to ride at a young age. He rode in a western saddle, and would tell me all about his boyhood adventures on horseback. He'd often ask me how I was doing in my riding. He'd always smile when I told him of my latest challenges. Arthur passed on in his sleep peacefully. I miss you. So this horse is drawn in your memory. I'm thinking of calling it, A horse for Arthur.

As I worked on the drawing, I remembered the stories Arthur would tell me. A black horse kept popping up in my mind. I wanted it to be special. I love pencil sketching and the black, and grays it makes. I put in some colored pencil to make it special. The picture dosen't do it justice. The blue is more vivid. Look for it in the shop coming soon.